TONIGHT WITH TRAV RATES "SHE SAID" WITH…

Film Synopsis

: New York Times reporters Megan Twohey (

Carey Mulligan

) and Jodi Kantor (

Zoe Kazan

) break one of the most important stories in a generation — a story that helped launch the #MeToo movement and shattered decades of silence around the subject of sexual assault in Hollywood.

***THIS FILM IS BASED ON TRUE EVENTS***
Trav's Critique on "SHE SAID" ➡️

I loved the film – the movie reminded me of the 2019 film, Bombshell that was about Megyn Kelly and the alleged allegations that she accused the FOX CEO, Mr. Roger Ailes of sexual harassment. How could I NOT think about this movie while watching THIS movie? I mean I was reminded of Law and Order: SVU as well while watching She Said because of the ONE line that the MAIN protagonist says in that TV Show, Olivia Benson is "getting up on that stand and facing your attacker is going to go a long way in your healing process!"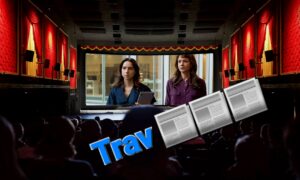 That one statement right there rings so true to me and in this movie!! That line is only reiterating speaking your truth and – not letting your abuser, controller, manipulator, whatever control your by keeping quiet about what happened to you! This film has wonderful title: SHE SAID – because as we have all heard the famous phrase of …wait for it…he said/she said when people go to battle in court especially against sexual attackers that have been accused of some sort of sexual assault or harassments.

Both Mulligan & Kazan worked very well in the film as NYC Times investigative reporters to uncover the harsh truth about the antagonist in the film, Harvey Weinstein. High-powered men who are in control like this who do such things are really sickening to me! They really are!!!

You know, it never shocks me that people with money, fame, prestige, and power feel that they can do whatever they choose and whenever because of a high title or they are a entrepreneur of some sort. As soon as this story of Harvey Weinstein came out, then it seemed like every Director or Producer in Hollywood was getting attacked and accused of assaulting celebs!

Is it just me thinking that – or do you feel that way as well? What I also detest is that these high-powered men put so much fear in these women that they assault and they are so scared to death to come forward r even speak to reporters or maybe even family members, get pay outs or even go as far as signing NDA's which are non-disclosure agreements which basically means that legally they are NOT allowed to discuss anything that happened between them and the accused.

It's really sickening to me! I do not like how money and greed can control greedy people! Watching this movie really made me upset; I will NOT even lie to you! These women who are faced in these very difficult situations need to find a way to channel their inner strength which I know that they have and channel it because if they have children – it will affect their children adversely and in a very negative way.

I think that if there are any weak-minded women in the world, they should watch this film, it might give them a boost of self-confidence and show them they if they THINK they are alone; they really aren't!