What's "Til Death Do Us Part" About?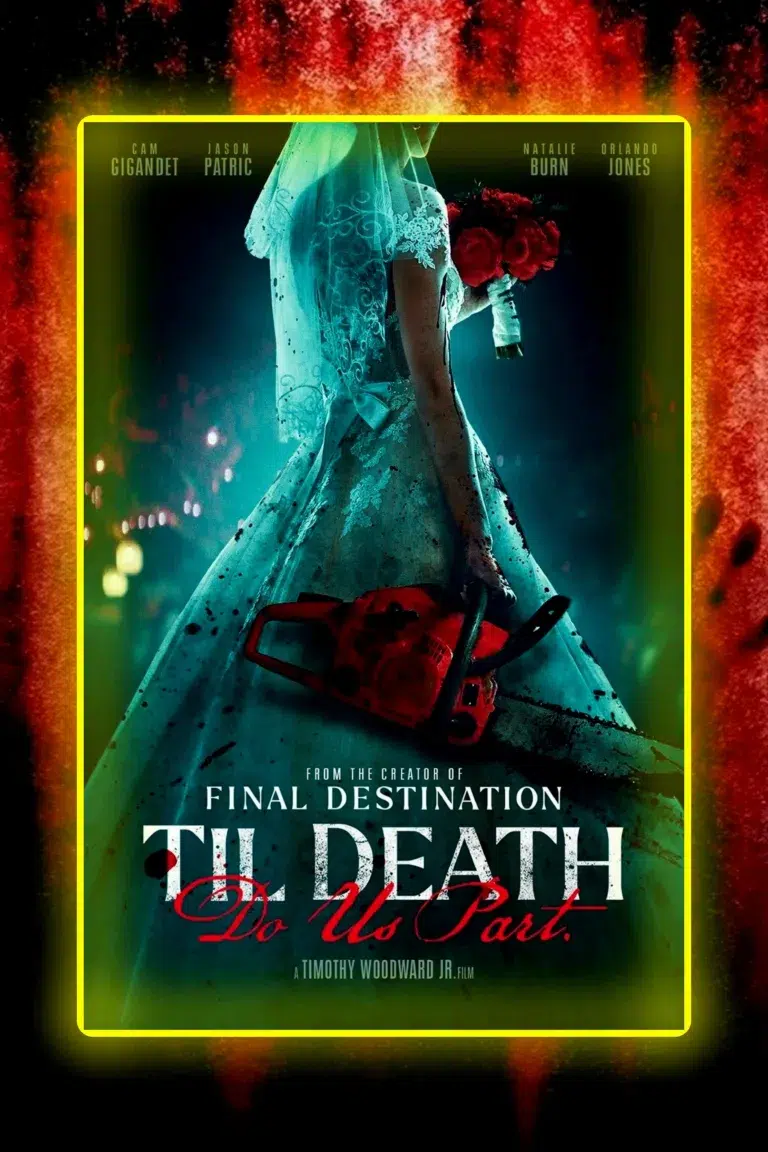 After bailing on her wedding, a former bride-to-be (Natalie Burn) must fight off her ex-groom (Ser'Darius Blain), the Best Man (Cam Gigandet), and six angry killer groomsmen (Orlando Jones, Pancho Moler, Neb Chupin, D.Y. Sao, Sam Lee Herring, & Alan Silva in order to survive the night!
Til Death Do Us Part
What do YOU personally think this phrase means to you – in general & NOT just when it is said in a wedding ceremony. I ask because it is very significant in this movie and I feel that is why the movie chose this specific line to to title the movie for the simple reason that the film was centered around the Bride …doing what? Parting… she wanted to part ways from the man she wanted to marry. Perhaps, there were extenuating circumstances that led her to this decision? What do you think? Sometimes, in life, deciding to go your separate ways in any type of relationship is for the best. Being together …forever is not always best for every couple. It cannot be forced; just like love cannot be forced. The one thing that I feel that CAN be forced in a relationship is – communication because if a relationship does not have that …nothing can get resolved if and when concerns arise in it whether it is platonic or romantic.
The Bride Takes On All
While watching the movie all I could think of was the Kill Bill movies because NO actual names were mentioned except The Bride, The Groom, The Best Man, etc. Without telling you why the Bride chose to ditch on her wedding day; it is very symbolic as to why she ditched her own wedding and the reason behind it was very valid and her reason/s behind it actually happen almost every day in real life. I will say that if people are not self-fulfilled …they will do a self-evaluation on themselves to determine what it would take to get them to that frame of mind. But, seeing The Bride take on all 7 of the groomsmen trying to stay alive was not funny; but quite overwhelming. The movie took its sweet time explaining to us how everyone was connected and what brought them all together. Even at the close of the film, it was still unclear, at least to me, but I still got a better understanding of it. I very much disapprove of films like that, personally.
The Best Man Dancing & Writing & Dancing Some More!!!
Cam Gigandet was completely out of the box in his role in the film! Death Do Us Part really chose the right antagonist for the Bride in casting Cam in Til Death Do Us Part! He had me laughing my butt off! I had to agree with Orlando Jones' character when he said to him that he was taking his Best Man Duties way to seriously him constantly ranting about his speech he wrote for the wedding and how he kept tweaking it over and over again to make it perfect. The second thing that I loved about Cam's role in the film was that he kept dancing throughout the entire film with – and to himself! He MOST DEFIENTELY provided humor Til Death Do Us Part.
Trav's Conclusions …NO Objections!
I enjoyed watching Til Death Do Us Part, and Natalie Burns and Cam Gigandet really played two great leading roles in the film. I think that you and everyone should go out and watch the movie if it is in you local movie theater! It is very well worth it. You will laugh! I guarantee it! You will NOT be disappointed …because I certainly was not! Say YES …I did! Remember that …Death Do Us Part …